Written by Rachel Krentzman, PT, E-RYT, CPYI, for LA YOGA MAGAZINE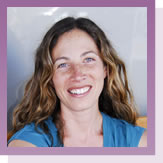 This was the second in an ongoing series on the therapeutic applications of yoga to appear in LA YOGA Ayurveda and Health magazine. A copy of the article can be viewed at: www.layogamagazine.com
I clearly remember the moment when shooting pain in my back sent me down on my knees, unable to breathe. I remember the numbness and tingling in my right foot – no matter how much I commanded, my foot would not obey. As a physical therapist, I knew exactly what was happening, I just couldn't believe it was happening to me. I was young, healthy, active and a dedicated yoga practitioner. How could it be that I had herniated a disc in my lower back? The fear surrounding any significant injury began to surface. My main question was, "Would I be able to stay active and do the things I love, the activities that fulfill my soul and inspire me daily?" Read more
By Rachel Krentzman PT, E-RYT, CPYI,
Written for www.active.com
Have you ever experienced a nagging pain in your shoulder blade area that just won't go away? How about chronic neck tension while sitting at your desk? Do massages feel great but a few hours later the pain returns?
Upper back and neck tension are complaints that are becoming more prevalent in physical therapy offices. With the increasing use of computers, desk jobs and time sitting in traffic, it's hard to avoid these aches and pains regardless of how active you are. Read more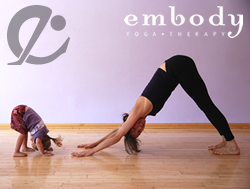 Yoga Asana (postures) and Pranayama (breathwork) are instrumental in preparing the body, the mind and
the spirit for conception. Yoga can increase your chances of conceiving by working on 3 different levels: physical, physiological, and the mental/emotional. This article includes a video.
By Rachel Krentzman, PT, E-RYT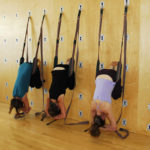 For www.active.com – March 19, 2010 – The Great Yoga Wall™
Many of you may have experienced both the exhilaration and peaceful state that a yoga practice provides. One of the reasons we feel so good after doing yoga is because it is a balanced physical practice designed to open the spine in every direction.
This is also what sets it apart from your average sport. Most sports are a function of repetitive movements that can often cause repetitive stress on the body or tightness in certain areas because of the posture adopted during that specific sport. In yoga it is said that "you are only as old as your spine." In other words, as long as you Read more
"Doctors make the worst patients." This cliché characterizes my behavior is not coming to terms with low back pain. I persisted in over-exercising, sought out curbside consults from my peers, ordered unnecessary tests and continued to suffer. All this changed when I met Rachel Krentzman. I care for countless patients with spinal stenosis and am familiar with all the traditional treatments that our healthcare system offers. Rachel is able to blend her physical therapy education and yoga training to offer a unique approach. She prescribed asanas (poses) that combined strengthening and flexibility which never aggravated my pain. She understood my emotional reaction to having chronic spine degeneration and tailored the program which reduced my stress. Spine degeneration is a lifelong condition that requires active participation by the patient. I am motivated to practice at home daily because Rachel's approach is gratifying, challenging and never boring. I may still not be the best patient, however I no longer have pain but rather a new approach to maintaining a healthy spine and mind."
Dr. Lance Stone – Medical Director of Rehabilitation Services UCSD Hillcrest and Scripps Mercy Medical Centers
"As a Doctor of Physical Therapy and Certified Strength & Conditioning instructor myself, I had tried everything I knew and consulted numerous other physical therapists for my shoulder pain with no relief. I had restricted my fitness routine and had almost given up hope of getting better until I heard about Rachel Krentzman and her unique approach to rehabilitation. Through working with Rachel, I have been amazed at how she combines physical therapy and mind body restoration through yoga. As her patient, I have enjoyed results that I was unable to achieve with traditional physical therapy alone. Rachel has also expanded my awareness as a physical therapist by teaching me that there is more than one way to reach my goals of living a pain free, active lifestyle."
Kim Bell DPT, CSCI, CWMI – Doctor of Physical Therapy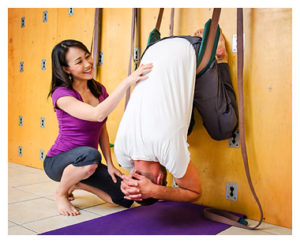 At Embody, we combine the ancient art and science of Yoga with Physical Therapy for a unique,  integrative and effective approach to pain relief and improved well being. We focus on finding the  source of your pain and realigning the body using movement, Yoga postures, positioning and  breath work.
Combining our knowledge and experience as licensed physical therapists with our extensive  training in Iyengar and Purna Yoga TM allows us to find new ways to promote complete healing  where conventional methods may have fallen short.
At Embody, your physical therapy experience is both personal and profound.
 "Fizzy Yoga" – AKA PhysioYoga Becoming More Popular!
"Fizzy Yoga" – AKA PhysioYoga – the combination of physical therapy and Yoga,  has gotten a great  deal of press lately! Learn about "Fizzy Yoga" for Baby Boomers and read this interesting article about how "Fizzy Yoga" saved Kim Catrall's life.
I am a physical fitness nut; a marathon runner; a triathlete; an endorphin junkie; and a very busy attorney in a stressful practice.
I had always thought of yoga as something like meditation. No time for that. But when an injury sidelined me for several months my physical therapist recommended a yoga session with Rachel. What could I lose?
From the very first yoga session with Rachel, I was hooked. The benefits of yoga became self-evident immediately. I couldn't believe the physical challenges to which this quiet, calm, easy-going yoga instructor gently pushed me. I couldn't believe the utter relaxation that followed every session. Soon I was showing my yoga poses and positions to friends and co-workers, and getting them into sessions with Rachel, all of whom were likewise amazed by the benefits of Rachel's instructions.
Rachel is not only a great yoga instructor, but a certified Thai massage therapist as well. Depending on a student's physical condition Rachel may mix different yoga styles with certain Thai message techniques. Rachel tailors each session to the particular needs of her clients.
I leave every session with Rachel both invigorated and relaxed, ready to take on the world!
Douglas W. Grinnell – Epsten Grinnell & Howell, APC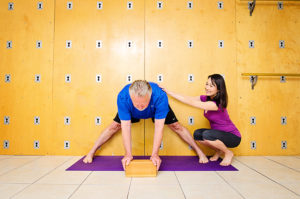 In a recent research study, the largest of its kind to date, Yoga proves to be more  effective than traditional exercise or an educational booklet for patients with  chronic  low back pain.
Our studio boasts a 12 station Yoga Wall ™, the only of its kind in San Diego, for spinal traction and deepening your practice.
 We accept most PPO insurance plans and are in network with Tricare  and  Medicare.  If we are not in network with your insurance plan, we can help you with reimbursement.  
Ask us about how we can help you get the care you need.
We specialize in lumbar, thoracic and cervical conditions, including scoliosis and sacroiliac joint dysfunction.
JUST RELEASED!! Order these 2 books for more information on yoga for a happy back! Written by founder and director of Embody Physical Therapy & Yoga, Rachel Krentzman PR, ERYT, C-IAYT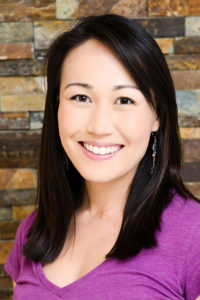 Jenn Chang DPT, received Bachelor degrees in both General Biology and Dance in 2008 at UC San Diego and her Doctorate of Physical Therapy degree from the University of St. Augustine for Health Sciences in 2011.  Having over 20 years of formal dance training in ballet, jazz, tap, contemporary, hip hop and break dancing, she has always been immersed in the study of movement.  To supplement her dance training, Jenn found Yoga to be the best modality to strengthen her body, increase flexibility, and gain a new level of awareness.  What was especially important to her was the focus on the breath while transitioning from one pose to the next, which is a concept that has enriched her dance practice, both in the studio and on the stage.  Jenn has been teaching dance and gymnastics for over 10 years to both adults and children and has a true passion for teaching others.  As a clinician, her background enhances her understanding of biomechanics and augments her skills as a manual therapist in order to provide her patients with the best quality of care.  Jenn's treatment approach focuses on increasing body awareness and re-balancing the body as well as facilitating the healing and retraining of damaged tissues for optimal functional mobility and pain free movement.