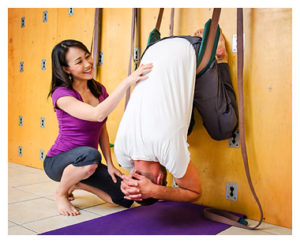 At Embody, we combine the ancient art and science of Yoga with Physical Therapy for a unique,  integrative and effective approach to pain relief and improved well being. We focus on finding the  source of your pain and realigning the body using movement, Yoga postures, positioning and  breath work.
Combining our knowledge and experience as licensed physical therapists with our extensive  training in Iyengar and Purna Yoga TM allows us to find new ways to promote complete healing  where conventional methods may have fallen short.
At Embody, your physical therapy experience is both personal and profound.
 "Fizzy Yoga" – AKA PhysioYoga Becoming More Popular!
"Fizzy Yoga" – AKA PhysioYoga – the combination of physical therapy and Yoga,  has gotten a great  deal of press lately! Learn about "Fizzy Yoga" for Baby Boomers and read this interesting article about how "Fizzy Yoga" saved Kim Catrall's life.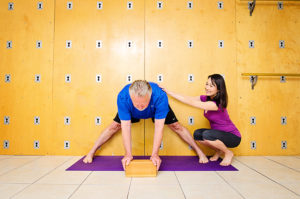 In a recent research study, the largest of its kind to date, Yoga proves to be more  effective than traditional exercise or an educational booklet for patients with  chronic  low back pain.
Our studio boasts a 12 station Yoga Wall ™, the only of its kind in San Diego, for spinal traction and deepening your practice.
 We accept most PPO insurance plans and are in network with Tricare  and  Medicare.  If we are not in network with your insurance plan, we can help you with reimbursement.  
Ask us about how we can help you get the care you need.
We specialize in lumbar, thoracic and cervical conditions, including scoliosis and sacroiliac joint dysfunction.
JUST RELEASED!! Order these 2 books for more information on yoga for a happy back! Written by founder and director of Embody Physical Therapy & Yoga, Rachel Krentzman PR, ERYT, C-IAYT
At Embody, we use the  Great Yoga Wall ™ for effective spinal and cervical traction using gravity, breath and awareness.  Our techniques help to improve alignment and create space between each vertebrae, reversing the effects of degenerative disc disease and nerve impingement.
Training for Teachers
Workshops
Yoga Therapy Workshops: At Embody, we are committed to continuing...
Yoga Therapy